Spinach & Sausage Baked Ziti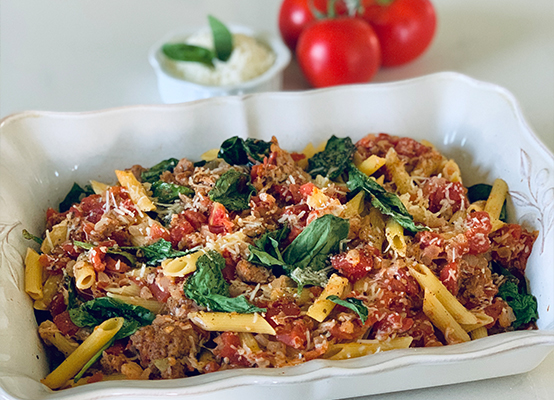 1-1.5 lbs regular or hot Italian Smokehouse ground sausage
1/2 cup chopped onion
3 large garlic cloves chopped
1 28 oz can diced peeled tomatoes
1/4 cup pesto
12 oz penne pasta
6 oz mozzarella cheese grated or cubed
1 cup parmesan cheese grated
Cook sausage, onion and garlic until sausage is cooked through.
Boil pasta. When done, drain and set aside.
Add canned tomatoes to sausage and onion mixture.
Simmer until sauce thickens slightly, stirring occasionally, about 10 minutes.
Add pesto and season sauce with salt and pepper.
Preheat oven to 375° F.
Lightly oil 13 x 9-inch glass baking dish.
Combine pasta, spinach, mozzarella and 1/2 cup Parmesan cheese in large bowl.
Add hot tomato mixture to bowl and mix well.
Place in baking dish.
Sprinkle remaining 2/3 cup Parmesan cheese over top.
Bake until sauce bubbles and cheeses melt, about 20 minutes.