Slow Cooker Breakfast Bake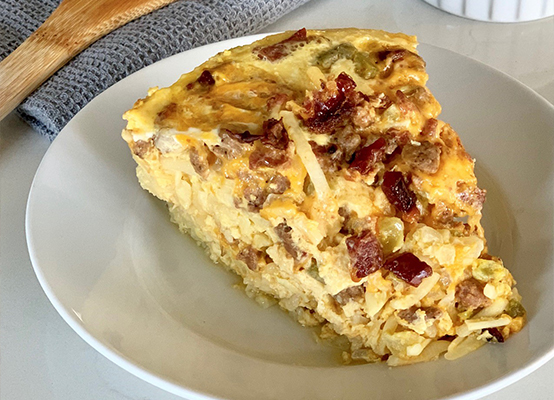 1 dozen large eggs
1 cup milk
1 package (32 oz) frozen hash brown potatoes
1/2 pound Smokehouse ground sausage browned and drained
1 cup bacon, cooked and crumbled
2 cups cheddar cheese, shredded
1/4 teaspoon dry mustard, optional
1/2 cup green onions, diced
1 green pepper, diced
Salt and pepper to taste
Layer frozen potatoes, sausage, onions, green pepper and 1 cup shredded cheese in slow cooker. Repeat 2 layers.
Sprinkle the remaining 1 cup cheese and bacon over top.
Beat the eggs, milk and salt and pepper in a bowl.
Pour egg mixture over ingredients in slow cooker.
Cook on low 4 to 5 hours or until eggs are thoroughly cooked.