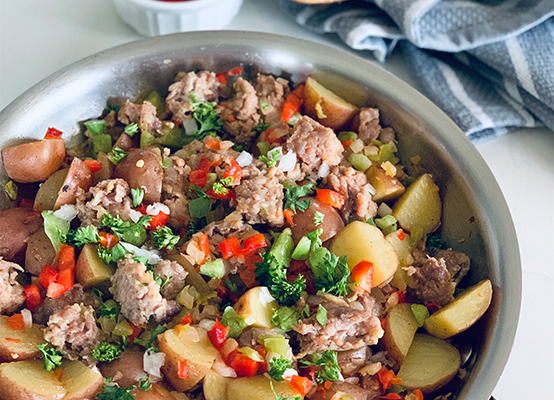 2 tbsp olive oil
3 large potatoes, cubed (peeled or unpeeled)
1 small onion, chopped
1 lb Smokehouse ground sausage
1/2 red bell pepper, chopped
1/2 green bell pepper, chopped
3 cloves garlic, minced
1/4 tsp red pepper flakes
Salt and pepper to taste
Add olive oil, potatoes to large skittle over medium heat. Season with salt and pepper.
Heat until they're about ½ way cooked through, 7-10 minutes.
Add onion, cook for another 3 minutes, stirring occasionally.
Add sausage, peppers, garlic and red pepper flakes to skillet, stir.
Reduce heat, and continue cooking until potatoes are cooked through, 7-10 minutes.