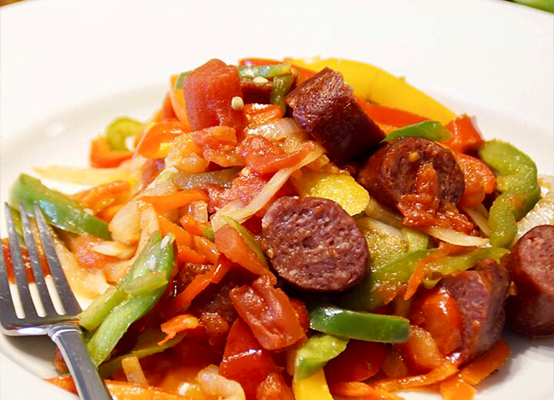 2 tablespoons olive oil
5 Smokehouse sausages
1 green pepper, thinly sliced
1 red pepper, thinly sliced
1 onion, thinly sliced
2 cloves garlic, minced
1 tablespoon tomato paste
1 (14.5-ounce) can diced tomatoes
1/2 teaspoon salt
1/2 teaspoon dried oregano
1/2 teaspoon dried basil
1/4 teaspoon black pepper
1/4 teaspoon red pepper flakes
Add oil to a large pan and heat over medium heat. Add sausages to heat and brown 5-6 minutes- remove from pan and set aside
Add onion and peppers to pan- cook until softened. Add garlic and cook for another minute.
Cut sausage into 1 1/2 inch chunks.
Return sausage to pan with other ingredients.
Cook for 5 to 10 minutes or until sausage is cooked and sauce is thickened.
Serve on hoagie rolls if desired.