Meal Prep Roasted Veggies and Sausage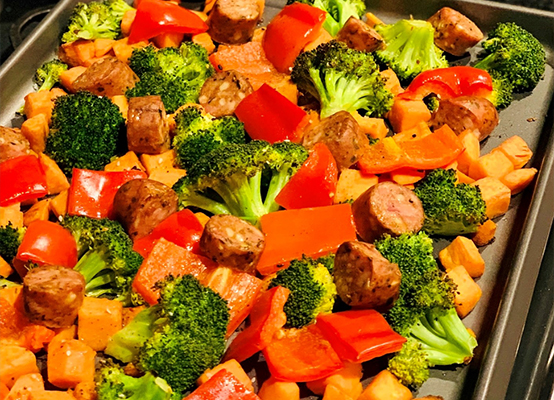 1 package Smokehouse sausages cut into 1'' pieces
2 cups sweet potato, diced into cubes
2 cups broccoli florets
1 cup red or green bell pepper, chopped
1 tablespoon garlic, minced
2 tablespoons olive oil
1 tablespoon Italian seasoning
1/2 teaspoon salt
1/2 teaspoon black pepper
Pre-heat oven to 400°F.
Combine the sausage, veggies, garlic, olive oil, and seasonings in large bowl- toss to combine and coat veggies with oil.
Spread mixture on sheet pan in even layer.
Bake for 20-30 minutes, flipping halfway.
Divide into meal prep containers. Add quinoa or brown rice, if desired.