Italian Sausage and Noodle Skillet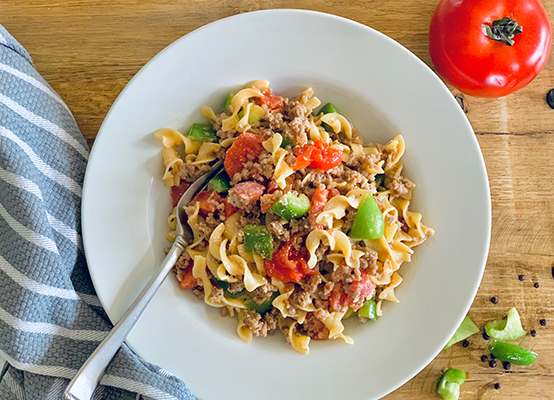 1lb Smokehouse ground Italian sausage
1/2 cup onion, chopped
1 cup green bell pepper, chopped
1 (14-ounce) can diced tomatoes
1 cup sour cream
1 cup water
1 teaspoon Italian seasoning
1/2 pound egg noodles
Parmesan cheese
In a large skillet over medium heat, combine sausage, onion, and green pepper. Cook until sausage is browned and onion is tender. Drain off pan drippings.
In a medium bowl, combine tomatoes, sour cream, water, Italian seasoning; mix well. Combine tomato mixture and noodles into skillet.
Cover and simmer 15 minutes or until noodles are tender, stirring occasionally. Sprinkle with parmesan cheese.