Grilled Pepper Brats and Corn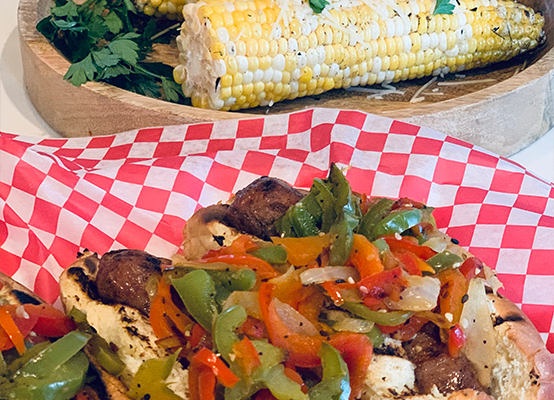 Brats and Peppers
6 Smokehouse brats
6 brat buns or onion hoagie rolls
1 medium sweet onion, diced
1 large green bell pepper, seeded and cut into slices
1 large red bell pepper, seeded and cut into slices
1 tablespoon olive oil
Salt and ground black pepper
Grilled Corn
Remove all husks and silks.
Preheat grill to medium-high.
Place the corn on the grill. Cook 15-20 minutes, turning corn every 2 to 3 minutes.
Remove corn from the grill and season.
Brats and Peppers
Pre heat grill to medium-high heat.
Grill brats to liking and until cooked through.
While brats cook place cut veggies and oil into skillet and sauté until tender. *Skillet can be used on grill or stovetop.
Season with salt and pepper, as desired.
Top brats with peppers and serve with corn!