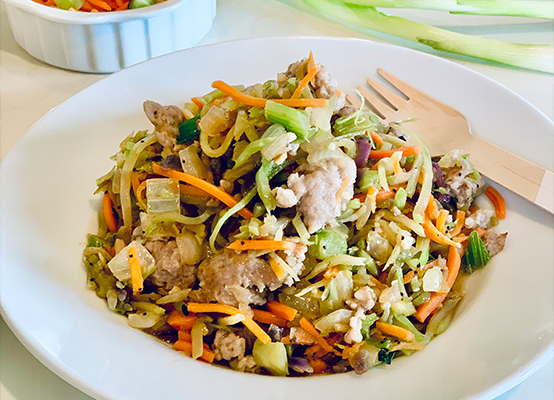 1 lb Smokehouse ground sausage
1 package coleslaw mix (16 oz)
1/4 cup carrots, shredded
1 tbsp sesame oil
1 onion, chopped
2 cloves garlic, minced
2 tsp ginger, minced
3 Tablespoons soy sauce
1 Tablespoon rice vinegar
Sriracha, to taste
4 tbsp green onions, chopped
1/2 tsp sesame seeds (optional)
In large skillet add oil and onions, sauté on medium heat 3-5 minutes.
Add garlic and ginger to skillet, cook one minute while stirring.
Add sausage to skillet, cook until brown.
Add carrots and cabbage and cook until veggies are softened.
Add soy sauce, vinegar, and Sriracha. Mix until combined well.
Garnish with chopped green onions and sesame seeds.