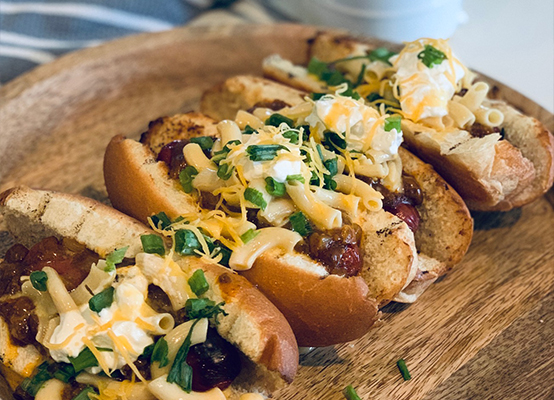 6 Smokehouse old fashion wieners
6 hot dog buns
1 teaspoon olive oil
1 small onion, chopped
1 jalapeno, seeded and diced
1 can (15 oz) chili, your choice
2 cups shredded cheese, divided
3-4 cups prepared mac and cheese of your choice
Garnish: Sour cream and chopped green onions
In a large pot heat oil; add onions and jalapenos. Sauté until softened.
Stir in chili, cook until heated through.
Stir in 1 1/2 cups of cheese, mix until smooth.
Grill the hot dogs and buns to your liking. Top each with a scoop of chili. Top with a scoop of mac and sprinkle remaining cheese overall the dogs.
Garnish with sour cream and onions, as desired.