Cauliflower Rice Skillet with Zucchini & Sausage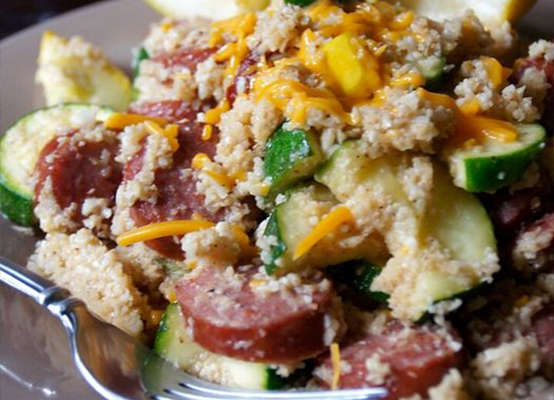 2 medium cauliflower heads
1 tbsp olive oil
1 lb sausage sliced into bite-sized pieces
1/4 cup butter
1/4 cup lemon juice
2 tsp salt
1/2 tsp pepper
1/4 tsp cayenne pepper
1 tbsp Dijon mustard
2 medium zucchini chopped
1 cup peas
1 cup cheddar cheese shredded
Chop cauliflower heads into smaller florets from the stems.
Pulse the cauliflower in a food processor. Pulse only until the cauliflower looks like rice.
Transfer the cauliflower rice to a bowl and set aside.
In a large skillet, heat 1 tbsp olive oil over medium heat. Add sliced kielbasa and spread it out into one layer. Let cook for about 3 minutes. For an additional 2-3 minutes, stir occasionally until browned on all sides.
Remove sausage with a slotted spoon to a plate and set aside.
Add a half stick of butter to the rendered sausage fat. When it is hot, add the cauliflower rice. Stir occasionally for about 10 minutes. Add lemon juice, salt, pepper, cayenne pepper, and mustard.
Add zucchini and stir. Cook for 5 minutes or until the rice and zucchini are tender.
Add peas and kielbasa and stir until warm. Add cheese to top and keep warm until cheese is melted.