Sausage Breakfast Skillet- on the grill!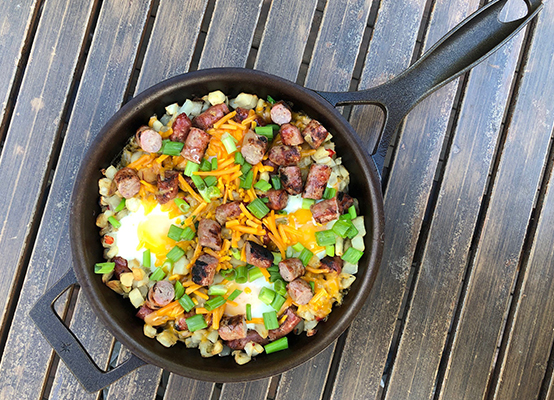 Smoked Sausage Breakfast Skillet
1 package Smokehouse Breakfast Sausage Links
16 oz bag frozen breakfast potatoes or potatoes O'Brien of your choice. 4 eggs
2-3 green onions, diced
Preheat grill to 350F.
Grill sausages 10 minutes, flipping at the 5 min mark, or until fully cooked. (165F internal temp)
Remove sausages from grill and cut into bite-size pieces.
Place cast iron skillet in the grill, and fill with a frozen bag of potatoes O'Brien.
Allow the potatoes to heat up, stirring occasionally, this should take 15-20 minutes.
When potatoes are hot, but not fully cooked, add in sausage.
Create 4 indents in mixture to drop eggs.
Allow skillet ingredients to cook until eggs are done to your liking.
Top with fresh green onions.